North Vietnam Discovery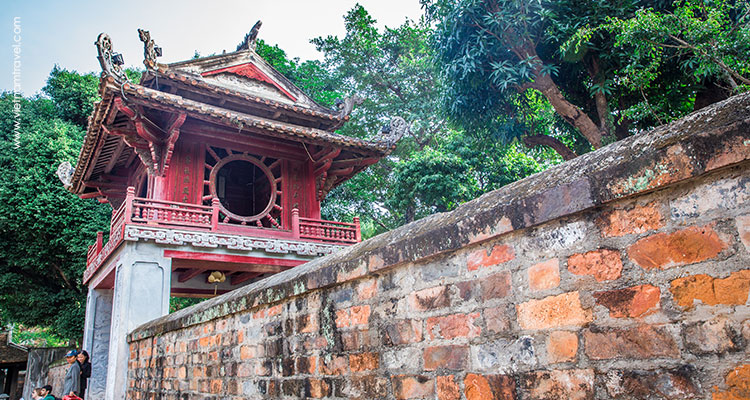 Starts

Hanoi

Destinations

Ends

Hanoi

Hanoi → Sapa → Dien Bien → Lai Chau → Mai Chau → Ninh Binh → Halong
Highlights
Explore Hanoi's colonial charm.
Visit mountainous areas and trek along the spectacular landscapes & colorful hill tribe villages.
Explore mythical Halong Bay on an overnight cruise.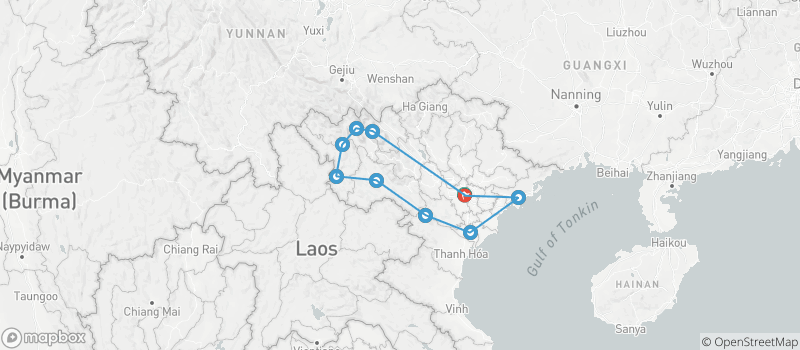 Age range

13 - 90 years old

Accommodation

3

/ 4

/ 5

Transportation
The North-West of Vietnam is still relatively untouched by the outside world. With possibly some of the most beautiful scenery in Vietnam, Vietnam Travel designed a package of 12-days trip to discover absolutely the top attractions of this area. Conquer the unspoiled hidden trail through colorful ethnic minority villages in the northwestern mountains and enjoy breathtaking views of Tam Coc & Halong Bay from boats…
The private tour could be revised to suit your schedule and departs any day of your convenience. Please contact our travel consultants for more details and the best offer.
We offer even better rate for group of more than 10 people.
Let our travel consultant custommized your dream Vietnam Package
Go to customize.
Service Category

2

Adult(s)

0

Child(s)

0

Infant(s)
Discount
Total
Select

$ 948 x 6

-

-

-

$ 5,688

Book It

$ 1,044 x 6

-

-

-

$ 6,264

Book It

$ 1,268 x 6

-

-

-

$ 7,608

Book It
Itinerary
Download PDF Brochure
Show all
Day 1: Arrive in Hanoi.

Welcome to Hanoi, Vietnam's bustling colonial capital. Your driver and guide will meet you outside the baggage claim of Noi Bai Airport and take you to your hotel in the city center. In the afternoon, enjoy an orientation walk, visiting some of Hanoi's main attractions: the Opera House, the St. Joseph's Cathedral, Hoan Kiem Lake with Ngoc Son Temple. This evening, savor a welcome dinner of authentic Vietnamese food at one of Hanoi's finest restaurants.
Meals: Dinner.
Accommodation: Hotel in Hanoi.

Day 2: Hanoi City Tour.

Today you have a full day to explore Vietnam's charming capital. With its wide tree-lined boulevards, French colonial architecture, peaceful lakes and ancient oriental pagodas, Hanoi is an eclectic mix that offers something for everyone. Your city tour will take you to Hanoi's key sites: the Ho Chi Minh Complex (Ho Chi Minh's Mausoleum and stilt house); the Presidential Palace; the nearby One Pillar Pagoda; the Temple of Literature; West Lake; the sedate Tran Quoc Pagoda & Quan Thanh Temple. Explore one of the city's museums (a choice between the History Museum and the Ethnology Museum).
This evening enjoy a traditional Water Puppet Performance – a unique Vietnamese art form hailing from Southeast Asia's wet-rice culture.
Meals: Breakfast.
Accommodation: Hotel in Hanoi.

Day 3: Hanoi – Drive to Sapa.

After breakfast, your guide & driver will meet you at the lobby of the hotel then leave Hanoi for Sapa on a six hour journey on Vietnam's longest and modern highway. Upon arrival, check in to your hotel and take a stroll to visit Cat Cat Village. Spend the afternoon exploring the charming town of Sapa or relaxing at your leisure.
Optional (ticket excluded in the tour package):
The world's most modern three-rope cable car system, Fansipan Legend, was opened to public use on February 2016. At the inaugural ceremony, representatives from Guinness World Records presented a certificate recognizing the system as the world's longest three-rope cable car (6,292.5 meters). The facility was also named the three-rope cable car system with the world's biggest height gap between its departure and arrival stations (1,410m). The cable car system stretches from Muong Hoa valley in Sapa Town, Lao Cai Province to the peak of 3,143-meter Fansipan, known as Indochina's rooftop. Passengers used to spend two days climbing to Fansipan summit, but now it takes only 15 minutes thanks to this system. The dream of reaching Indochina's rooftop, which used to be hard to do, becomes easier for everyone. As soon as you reach Fansipan station in an altitude of 2,800m above sea level, 600 stairs await for you to climb up to the summit. Standing on the top of Fansipan, it seems that you are enjoying a life on heaven. Surroundings are range of mountains and cloud only. And then you return the station for a ride back to Sapa.
WORKING HOURS: Start: 7:30 A.M – End: 17:30
PRICE: Adult and child (taller than 1.3m): 30 USD/ person; Child: 20 USD/ person.
Meals: Breakfast.
Accommodation: Hotel in Sapa.

Day 4: Sapa Trekking.

Enjoy breakfast in the hotel while breathing fresh mountain air. At 10:00 A.M, leave Sapa by car toward Lao Cai City, after a 3 km drive you will ascend a hill to a remote ethnic minority village of Sa Seng where you will be able to see how the Black H'mong's daily life is. This community has recently shifted from a migratory lifestyle. Notice the traces of past villages with stone wall foundations that would have been seasonally used. Enjoy lunch in Sa Seng, before trekking uphill along the side of Den Thang Mt. After an hour arrive at Hang Da Village, at the elevation of 1,800m. Take in the breath taking view of the Muong Hoa Valley. The next 30 minutes are level walking before descending through Hau Chu Ngai village. Continue descending into Hong Den Hamlet, consisting of only a few homes scattered on a rocky point. Take a moment to enjoy some of the best scenery in the area. Keep trekking down the trail to Hau Thao village and then conclude your day at Ta Van Bridge where you will meet your driver and travel back to Sapa Town.
Meals: Breakfast, Picnic Lunch.
Accommodation: Hotel in Sapa.

Day 5: Sapa – Lai Chau – Muong Lay (Dien Bien).

In the morning, you are free to relax or discover the town on your own. At 10:00, drive to Silver Waterfall with marvelous scenery of the surrounding nature. Visit Hoang Lien National Park and the nearby Tram Ton Pass, Heaven's Gate – the highest roads in Vietnam (over 2,000m) which divides Sapa Town and Lai Chau Province. Admire the spectacular views, even the Fansipan summit, the highest peak of Indochina mountains (weather permitting). Keep driving downhill to Lai Chau where you will enjoy lunch in a local restaurant. You will then have a nearly three hour journey to Muong Lay Town (Dien Bien Province) where you will spend the night. Muong Lay is a resettlement town lining the bank of the mighty Da River which drives the nation's largest hydropower plant and home to some of the country's most colorful hill tribes. The town centre is located in a long narrow valley, at the head of which is the confluence of the Da River, the Nam Na River and the Nam Lay Stream. Since Muong Lay became a resettlement area for those ceding land for the Son La Hydropower Dam, it has undergone a metamorphosis, becoming a modern urban area with full community services, as well as an attractive tourist destination in Vietnam's North West provinces.
Meals: Breakfast.
Accommodation: Hotel in Muong Lay.

Day 6: Muong Lay (Dien Bien) – Dien Bien Phu.

Today's drive offers spectacular views through mountains but take note, some parts of the road might be under-construction or landslide. Arrive in Dien Bien Phu City around noon. Dien Bien Phu was the site of a major French defeat (1954) in the First Indochina War, and was of tremendous historical significance. The French defeat here led to their complete withdrawal from their colonies in Indochina, and the division of Vietnam into North and South. The battle of Dien Bien Phu is described by historians as: the first time that a non-European colonial independence movement had evolved through all the stages from guerrilla bands to a conventionally organized and equipped army able to defeat a modern Western occupier in pitched battle. As such, it had a massive effect on world politics, inspiring other independence movements and spurring a period of decolonization, particularly in French ruled Africa. Nowadays, Dien Bien Phu is a relatively quiet town, with a population of approximately 100,000. It acts as a regional hub for the province's trade and transportation. After having lunch, visit Vietnam Military History Museum (sometimes called Dien Bien Phu Victory Museum) and cemetery and then on to famous "A1 Hill", the site which saw some of the fiercest fighting between French and Vietnamese forces in the battle of Dien Bien Phu in 1946. Conclude your day with a visit to French Command Bunker (west of River Ron).
Meals: Breakfast.
Accommodation: Hotel in Dien Bien Phu.

Day 7: Dien Bien Phu – Son La – Mai Chau.

After breakfast, check out the hotel for a drive to Mai Chau, a small town nestled in the midst of a lush valley and surrounded by emerald-green rice fields. The most picturesque scenery on today's journey is Pha Din Pass, a charming pass at elevation 1,300m with breath taking view, well-known as a historical site during the 1st Indochina War ended in 1954. According to local legend, "Pha Din" means the connection between Heaven and Earth. Have lunch time in Son La City (150km from Dien Bien Phu). Continue the journey and stop en route to visit villages of various tribes including the Thai, Muong and Dzao and orchard, tea farm in Moc Chau plateau – Vietnam's premier tea-growing region. Arrive in Mai Chau in late afternoon, check in your homestay in a Thai village for the night. Enjoy dinner with a local family.
Meals: Breakfast & Dinner.
Accommodation: Homestay in Mai Chau.

Day 8: Mai Chau Trekking.

Mai Chau valley is a scenic patchwork of villages and limestone cliffs about 150 kilometers from Hanoi. This beautiful mountainous area with thick jungle, bamboo groves, tea plantations and waterfalls lends itself to fantastic walks and short treks to ethnic villages. After breakfast, walk around Thai villages before an easy trek (from 2 to 4 hours) through Xa Linh, Pa Co which is home of the Green Hmong hill tribe. You may have chances to chat with the local minority people who will be out and about, collecting firewood, working in the fields and tending to their animals. Have picnic lunch along the trails. Then enjoy a leisure walk to Thai villages of Van Mai, Mai Hich, Cum and Xam Khoe before transferring back your homestay. Join the family for dinner, witness a performance of the traditional songs and dances, and enjoy an evening immersed in age-old cultures.
Meals: Breakfast, Picnic Lunch & Dinner.
Accommodation: Homestay in Mai Chau.

Day 9: Mai Chau – Ninh Binh.

After breakfast, bid farewell the Thai host and depart Mai Chau for a countryside drive through Ninh Binh province where fascinating limestone karsts jut forth skywards between verdant rice paddies and lazy rivers. A stop at Cuc Phuong National Park is an interesting way to break up the long drive. Upon arrival, check in to your hotel and spend a couple of hours to relax. At sunset, you will enjoy a relaxing sampan tour along Ngo Dong River, passing under rocky outcrops and through three limestone caves (Tam Coc). During the rowing boat ride, you will enjoy a unique landscape that has been dubbed "Halong Bay on Land". Take a short walk through limestone mountains to Thai Vi temple which was dedicated to the four Kings of the Tran dynasty in the 13th century and now offers a place of peace and simplicity against a back drop of ancient architecture. Spend the night at your hotel in Tam Coc.
Meals: Breakfast.
Accommodation: Hotel in Tam Coc (Ninh Binh).

Day 10: Ninh Binh – Halong Bay – Overnight on cruise.

(The itinerary is a sample, depends on weather and it will be different between cruises. Our travel consultants will provide the exact schedule and program if you book other cruise such as Hera Cruise, Halong President Cruise, Emperor Cruise, Halong Violet, Halong Jasmine, Paradise Luxury Cruises, Orchid Cruise, Indochina Sails, Au Co Cruise, Starlight Cruise, Oriental Sails, Peony Cruise etc.)
Halong Bay is one of the most loved spots in Vietnam for a reason - it's gorgeous. On this Halong Bay tour, we take you away from the hectic pace of life in Hanoi and introduce you to the tranquil, beautiful Halong Bay... Following breakfast, journey northeast through the rich farmland of the Red River Delta to Halong Bay, truly one of Vietnam's most scenic impressive sights. On arrival you are welcomed onboard a traditional junk. Settle into a private comfortable cabin and unpack for a two day cruise around Halong Bay. Along the way, enjoy a huge lunch served on board and admire the picturesque scenery of islands. These limestone karst formations are littered with beaches, grottoes and beautiful caves. You will anchor for a leisurely swim in a secluded cove and an enjoyable visit to Sung Sot cave, one of the many hidden grottoes beneath towering cliffs. The remainder of day is for your own pleasure; observing the bay, lazing around the deck or simply soaking up the sunshine.
Meals: Breakfast, Lunch, Dinner.
Accommodation: on cruise on Halong Bay.

Day 11: Halong Bay – Overnight on cruise.

Start your day with Tai Chi exercise on the sundeck. Enjoy a cup of coffee and breakfast while refreshing yourselves in Bai Tu Long majestic bay. Move to the day boat to discover Bai Tu Long Bay. Cruise toward Tra San, Vung Ha Island where you can kayak and enjoy the wild, bewitching nature with many limestone islands, lovely small beaches. Lunch will be served on the day boat today. In the late afternoon, transfer back to mother cruise. Have dinner and night activities on board.
Meals: Breakfast, Lunch, Dinner.
Accommodation: on cruise on Halong Bay.

Day 12: Halong Bay – Hanoi – Departure.

Awake early and participate in Tai Chi on the top deck or simply relax and enjoy the sunrise over the bay's towering islands. Enjoy a morning cup of coffee or tea, before navigating back to Halong Pier. Your driver will meet you at the dock and take you to Hanoi's Noi Bai Airport for your departure flight. Good bye and safe travels!
Meals: Breakfast.
Accommodation: N/A.
Detailed services
Show all
Accommodation

Rated Excellent by past passengers

Note:All the hotels/ cruise are subject to availability and can be changed. In case any of the listed hotels are fully booked, alternatives of equivalence will be taken.

Guide

Rated Excellent by past passengers

English Speaking Tour Guide (other language on request)

Meals

Rated Excellent by past passengers

Daily breakfast at hotel
- 2 lunches
- 1 Dinner.

Transport

Rated Excellent by past passengers

Private transportation with A/C 
Flights

There is no domestic flight included in this package.

Note:Please note that airfares are subject to availability and to change without notice
Price Includes
• Accommodation with daily breakfast at selected hotels.
• Private tours, transfers and all services as mentioned in the itinerary.
• Halong Bay cruise package (3 days/ 2 nights).
• Services of private drivers and air-conditioned vehicles.
• Service of English speaking guides as mentioned in the itinerary.
• Entrance fees, performances, boat trips & excursions.
• Meals as mentioned in the itinerary.
Price Excludes
• International flight into and out Vietnam.
• Early check-in and late check-out at hotels.
• Personal expenses (such as laundry, telephone, drinks, etc.).
• Tips for guides and drivers.
• Personal travel insurance.
• Vietnam Visa fee.
START PLANNING NOW
Open