Grand Indochina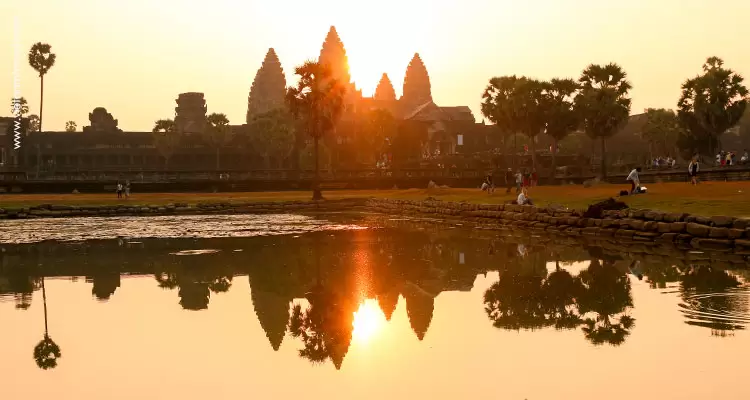 Starts

Siem Reap

Destinations

Ends

Mandalay

Siem Reap → Phnom Penh → Chau Doc → Mekong Delta → Cai Be → Ho Chi Minh City → Cu Chi & Tay Ninh → Hoi An → Hue → Halong Bay → Hanoi → Yangon → Bagan → Mandalay → Myanmar
Highlights
Capture sunrise at Angkor Wat & the magnificent temples in Angkor Archaeological Park.
Learn Cambodian history in Phnom Penh.
Explore the waterways of Mekong River.
Visit a glimpse of bustling & charming capital Hanoi.
Wander through Hoian Ancient Town.
Cruise among hundreds islands & islets of Ha Long Bay.
Discover Myanmar's biggest city: Yangon.
Witness the amazing sunset over 2,200 temples of Bagan plain.
Admire the most sacred pagoda in Myanmar, Golden Shwedagon Paya.
Enjoy a beautiful sunset from U Bein teak bridge.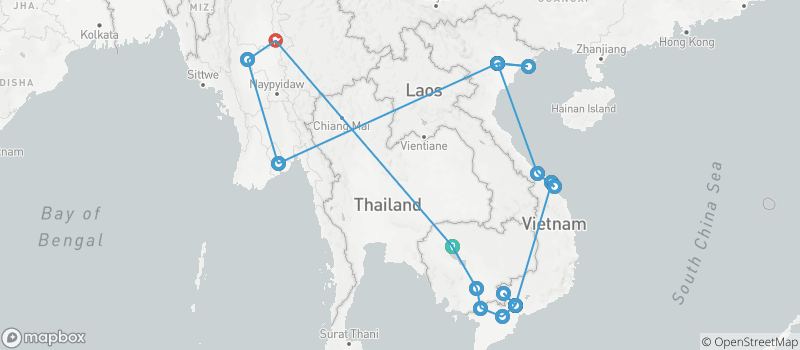 Age range

18 to 39 year olds +5 more

Accommodation

3

/ 4

/ 5

Transportation
Explore Indochina on an exciting tour through Cambodia, Vietnam and Myanmar. This 17 day trip of "Grand Indochina" starts from the legendary Angkor Temples, to the bright lights of Saigon; visit tranquil beaches along Vietnam's coastal cities and encounter the magic of Myanmar's glorious gold-leafed temples. The tour perfectly balances cultural immersion with sightseeing and relaxation, giving you an unparalleled Indochina experience. The tour could start from Siem Reap (Cambodia) and end in Mandalay (Burma) or vice versa…
We offer even better rate for group of more than 10 people.
Let our travel consultant custommized your dream Vietnam Package
Go to customize.
Service Category

2

Adult(s)

0

Child(s)

0

Infant(s)
Discount
Total
Select

$ 2,028 x 6

-

-

-

$ 12,168

Book It

$ 2,184 x 6

-

-

-

$ 13,104

Book It

$ 2,702 x 6

-

-

-

$ 16,212

Book It
Itinerary
Download PDF Brochure
Show all
Day 1: Welcome to Siem Reap.

Welcome to Siem Reap, the gateway into the Angkor temples. Designated a World Heritage Site by UNESCO, the Angkor Archaeological Park encompasses dozens of temple ruins including Bayon, Banteay Srei and the legendary Angkor Wat. Upon arrival, your tour guide and a driver will welcome you at the airport and transfer you to the hotel for check in. Now you can spend the afternoon on an orientation walking tour, exploring the town and visiting the Old Market.
Meals: N/A.
Accommodation: Hotel in Siem Reap.

Day 2: Discover Angkor.

Enjoy an entire day dedicated to discovering the mysterious Angkor temples. Wake before dawn and drive to Angkor Wat complex - the largest religious monument in the world at sunrise. Dawn is one of the most beautiful and haunting times to visit the temples and see Angkor Wat reflex on the water.
Then return to the hotel for proper breakfast or you could also order breakfast box from your hotel and dine here to avoid the crowd during the day.
The journey continues with Angkor Thom's imposing South Gate, topped with the four serenely smiling faces of Avalokiteshvara. Next visit Bayon temple, the Elephant Terrace and the Terrace of the Leper King.
After lunch, leaving Angkor Thom by the North Gate, you will travel to Preah Khan (Sacred Sword), one of Angkor's largest temples, constructed in the 12th century by Jayavarman VII. You should not miss Ta Prohm Temple, which is a wonderful combination of human genius and natural beauty with its giant trees that have grown there for centuries. Then then visit some nearby temples before return to the hotel and spend rest of the day leisurely at swimming pool.
Meals: Breakfast.
Accommodation: Hotel in Siem Reap.

Day 3: Siem Reap – Fly to Phnom Penh – City Tour.

Today you fly from Siem Reap to Phnom Penh, Cambodia's modern capital. Despite its recent turbulent history, Phnom Penh's wide tree-lined boulevards and faded colonial mansions holds an undeniable charm. Your driver and guide will meet you at the airport and take you to the hotel. In the afternoon, try out your best bargaining skills on a walk through the city's expansive "Russian Market," where you can find anything from motorcycle parts to valuable gems. Finalize the day with a leisure cyclo ride down Sihanouk Boulevard to visit the National Museum and the Royal Palace, home to the Royal Family and the opulent Silver Pagoda.
Meals: Breakfast.
Accommodation: Hotel in Phnom Penh.

Day 4: Phnom Penh – Speedboat to Chau Doc.

Today travel by speedboat down the Mekong River, through Cambodia and into Vietnam. Spend the cruising down the river, enjoy views of the fluvial landscape is an unforgettable experience... Arrive in Chau Doc Town in the late afternoon. Your driver and guide will meet you at the dock and take you to your hotel for check in.
Meals: Breakfast.
Accommodation: Hotel in Chau Doc.

Day 5: Chau Doc – Mekong Delta Tour – Saigon.

This morning, drive from Chau Doc to Saigon, stopping along the way to explore the serene Mekong River Delta. Have breakfast then travel by car to the riverside town of Cai Be. Visit a candy factory and orchard garden, where you will have an opportunity to listen to traditional Vietnamese music. Enjoy a relaxing lunch at a riverside restaurant then set out by rowboat to explore some of the delta's many islands. In the afternoon continue on your drive to Saigon. Check in to the hotel then enjoy the rest of the day at your leisure.
Meals: Breakfast, Lunch.
Accommodation: Hotel in Saigon.

Day 6: Saigon – Tay Ninh – Cu Chi Tunnels.

Leave Saigon and drive through South Vietnam's countryside to Tay Ninh province to visit the magical Cao Dai Temple, home to the Buddhist fusion religion that took root in the 1920s. Join a noon-time ceremony at the colorful temple then stop for lunch at a local restaurant. After lunch, continue on a journey to visit the historic Cu Chi Tunnels, an incredible underground labyrinth constructed by the Vietnamese soldiers to survive American air raids during the Vietnam War. Those bold enough have the opportunity to crawl through sections of the tunnels to understand the living conditions of the Vietnamese soldiers during the wartime. Return to Saigon in the late afternoon.
Meals: Breakfast.
Accommodation: Hotel in Saigon.

Day 7: Saigon City Tour – Fly to Danang – Hoian

Saigon, Vietnam's largest city, is a vibrant, modern metropolis, converging East and West. After breakfast at the hotel, spend the morning on a guided tour of this captivating city, visiting the Reunification Palace, the War Remnants Museum, Notre Dame Cathedral, the Old Post Office and Ben Thanh Market. In the afternoon, drive to the airport to catch your flight to Danang. Your driver and guide will meet you at the arrival gate and take you on the short drive to the tranquil, riverside town, Hoian.
Meals: Breakfast.
Accommodation: Hotel in Hoian.

Day 8: Hoian City Tour.

Enjoy time for relaxation as you immerse yourself in the serenity and charm of this sleepy beach town. From the 16th to 18th century Hoian was a thriving international port frequented by Chinese, Dutch, French, Japanese, Portuguese and Arab merchants, who came to trade in the high quality silk still produced in the region. Today, Hoian is a relaxing resort popular with tourists for its eclectic architecture, skilled tailors and numerous cafes. Take a half-day walking tour through the ancient quarter's narrow winding streets, visiting Chua Ong Pagoda, the Chinese Assembly Hall, the 200 year old Tan Ky ancestral house and the famous Japanese Bridge. In the afternoon, enjoy free time to shop, explore and relax. 
Meals: Breakfast.
Accommodation: Hotel in Hoian.

Day 9: Hoian – Danang – Hue.

Enjoy breakfast at the hotel then check-out and drive northward to Hue over the 500m-high Hai Van pass. Enjoy a stop at the scenic Lang Co Beach for a drink before continuing on to Hue - a UNESCO World Heritage site. Spend the afternoon on a historical tour through Vietnam's ancient capital city, visiting the Royal Citadel, Thien Mu Pagoda and the Mausoleum of King tu Duc - a replica of the king's palace built for the next reincarnation of the king.
Meals: Breakfast.
Accommodation: Hotel in Hue

Day 10: Hue – Fly to Hanoi – Halong Bay.

Today you will travel to North Vietnam's magical Halong Bay. Have breakfast at the hotel then fly to Hanoi. Your driver will meet you at the airport and take you on a scenic drive through the countryside along the Red River Delta to the UNESCO World Heritage Site, Halong Bay. Arrive in Halong City in the late afternoon. Enjoy the afternoon to rest and relax at the hotel. Optional (please contact our travel consultants for an arrangement in advance): Austrian engineer Doppelmayr and Swiss engineer Garaventa have completed the world's largest aerial tramway across Halong Bay. The 2,222m ropeway is suspended from two concrete towers, the larger of which is 188.88m high. Each of the double-decker cabins and six sets of doors is built to carry 230 passengers, making them the biggest ever built. The tramway will take visitors between a terminal in the Bai Chay District of Halong City up to the amusement park at the top of Ba Deo Hill (Hon Gai Ward, Halong City). The Nu Hoang Cable Car (meaning Queen in English) has just operated since late June'16 and the round-trip entrance ticket is 15 USD/ person (excluded).
Meals: Breakfast.
Accommodation: Hotel in Halong Bay.

Day 11: Halong Bay Cruise.

Free morning at the hotel until our driver transfer you to the pier for your overnight cruise.

(The itinerary is a sample and it will be different between cruises. Our travel consultants will provide the exact schedule and program if you book other cruise such as Hera Cruise, Halong President Cruise, Emperor Cruise, Halong Violet, Halong Jasmine, Paradise Luxury Cruises, Orchid Cruise, Indochina Sails, Au Co Cruise, Starlight Cruise etc.) Spend a nearly 24 hours on a traditional junk cruise in the amazing Halong Bay: a natural wonderland composed of jutting limestone islands and sparkling turquoise waters. Arrive at the dock around noon and board your junk. Savor a gourmet lunch of fresh seafood onboard as you sail out into the mystical bay. In the afternoon, you will cruise around some of Halong's numerous islands. Visit one of the most beautiful caves in Halong area. Stop at an island cove with a sheltered white-sand beach and take a dip in the warm waters of the Gulf of Tonkin (weather permits). Pass the night on the junk, lulled to sleep by the gentle rocking of calm waters.
Meals: Breakfast, Lunch, Dinner.
Accommodation: on cruise.

Day 12: Halong - Hanoi.

Awake early and participate in Tai Chi exercise on the top deck or simply relax and enjoy the sunrise over the bay's towering islands. Enjoy a morning cup of coffee or tea, before setting out to explore nearby islands by rowboat. Return to the junk for brunch then take advantage of the sundeck while admiring the amazing rock formations of Bai Tu Long Bay as you navigate back to Halong City. Your driver will await you at Halong pier, then drive back to Vietnam's capital city, Hanoi. In the evening enjoy a traditional Water Puppet Performance - an unique Vietnamese art form hailing from Southeast Asia's wet-rice culture.
Meals: Brunch.
Accommodation: Hotel in Hanoi.

Day 13: Hanoi City Tour – Fly to Yangon.

Spend a half-day exploring Vietnam's charming capital. With its wide tree-lined boulevards, French colonial architecture, peaceful lakes and ancient oriental pagodas; Hanoi is an eclectic mix that offers something for everyone. Your city tour guide will take you to Hanoi's key sites: Hoan Kiem Lake with Ngoc Son Temples, St. Joseph's Cathedral, the Temple of Literature... After lunch, drive to Noi Bai International Airport to catch your flight to Myanmar. Transfer to Yangon City Centre and check in to your hotel.
Meals: Breakfast.
Accommodation: Hotel in Yangon.

Day 14: Yangon City Tour – Fly to Bagan.

Yangon, formerly known as Rangoon, is still a relatively quiet and charming city. Its impressive colonial and spiritual heritage makes Yangon one of the most fascinating and authentic capitals of South-East Asia. Start your city tour at Shwedagon Pagoda – the most prominent monument in Yangon which dominates the sky with golden flash, giant spires and holy relics. Continue to Sule Pagoda which is believed to enshrine a strand of hair of the Buddha & the nearby City Hall & Mahabandoola Park with Independent Monument. Embark on an orientation walk to Chinese Town, covering exotic streets of Yangon downtown and British Colonial building as Emmanuel Church, Inland Water Buildings. Lunch on your own then drive to the airport for an in-country flight to Bagan. Your local tour guide and driver will meet you at Bagan Airport for a transfer to your hotel.
Meals: Breakfast.
Accommodation: Hotel in Bagan.

Day 15: Bagan Discovery.

Today, spend whole day exploring Bagan: Myanmar's archeological wonderland and home to over 2,200 ancient temples dotted among lush farmland. Start your sightseeing today with the visit to lively & colorful market of Naung U then spend rest of the day for temple exploration. Your first temple visit is to Shwezigon Pagoda, which is believed to enshrine a bone and tooth of Gautama Buddha. Continue to Htilominlo Temple, Ananda Temple, housing four standing Buddhas and then to Sulamani Temples. In the afternoon, visit a lacquer works and some other nearby temples. Late afternoon, enjoy a beautiful sunset over Bagan plain and the legendary Irrawaddy River. (Optional: early morning balloon ride over Bagan if the weather permits - please contact us for further information).
Meals: Breakfast.
Accommodation: Hotel in Bagan.

Day 16: Bagan – Fly to Mandalay.

Today you will take a morning flight to Mandalay. Upon your arrival at Mandalay, you'll be greeted by your local tour guide and driver then first discover the Mahamuni Buddha Temple which is entirely covered with gold leaf deposited by devotees over the centuries. Later, visit Mandalay craft workshops, which are reputed to be the finest in the country. After that, you'll leave for Ava and cross the river by a ferry. In the afternoon, you will reach your carriage to go to the Bagaya Monastery. Continue to see Nan Myint Tower, one of the remains of the ancient palace. You'll then visit the Maha Aung Mye Bonzan Monastery. Next stop is Amarapura, the penultimate royal capital of Myanmar. You will then start with a visit to Mahagandayon Monastery, which houses more than a thousand young monks, and walk across U Bein Bridge, the longest teak bridge in the world built in 1782. From the bridge, special atmosphere of the sunset will be seen and remember for good.
Meals: Breakfast.
Accommodation: Hotel in Mandalay.

Day 17: Mandalay Departure.

Your day of discovery will start with the ascent of Mandalay Hill which overlooks the city at 240 meters and thus offering superb panoramas over the city. Located south of the hill, Kyauktawgyi Pagoda, here you can admire a gigantic Buddha carved from a single block of marble. Next, explore Kuthodaw Pagoda, also called the "greatest book of the world" for its collection of 729 marble plaques engraved with Buddha's teachings. Your journey will end with a tour of the impressive Shwenandaw Monastery, the last structure of the Royal Palace to have survived since the 19th century, known for its remarkable woodcarvings. Transfer to the airport for your departure flight. Goodbye & Safe travels!
Meals: Breakfast.
Accommodation: N/A.
Detailed services
Show all
Accommodation

Rated Excellent by past passengers

Note:All the hotels/ cruise are subject to availability and can be changed. In case any of the listed hotels are fully booked, alternatives of equivalence will be taken.

Guide

Rated Excellent by past passengers

Guide: English Speaking Tour Guide (other language on request)

Meals

Rated Excellent by past passengers

Meals as mentioned in the itinerary: Daily breakfast at the hotels, 3 lunches,1 dinner

Transport

Rated Excellent by past passengers

Private Car/Van with Air-Conditioning.
Boat: Speed boat Phnom Penh - Chau Doc
Flights

Siem Reap - Phnom Penh by Cambodia Angkor Air
Saigon - Da Nang by Vietnam Airlines
Hue - Hanoi by Vietnam Airlines
Hanoi - Yangon by Vietnam Airlines
Yangon - Bagan by any availble flights in MM
Bagan - Mandalay by any availble flights in MM

Note:Please note that airfares are subject to availability and to change without notice
Price Includes
• Accommodations with daily breakfast.
• Meals as mentioned in the itinerary.
• Services of private drivers and air-conditioned vehicles.
• Service of English speaking tour guides.
• Halong Bay Cruise Package (2 days/ 1 night).
• 6 domestic & regional flights ( Siem Reap - Phnom Penh;  HCM City - Danang; Hue - Hanoi; Hanoi - Yangon; Yangon - Bagan; Bagan - Mandalay).
• Entrance fees, performances, boat trips & excursions.
Price Excludes
• International flights into Cambodia and out Myanmar.
• Meals other than those mentioned in the itinerary.
• Early check-in and late check-out at hotel.
• Personal expenses (such as laundry, telephone, drinks, etc.).
• Tips for tour guides and drivers.
• Travel insurance.
• Visa fees (to Cambodia, Vietnam, Myanmar).
START PLANNING NOW
Open