Starts

Hanoi

Destinations

Ends

Hanoi

Hanoi → Mai Chau → Dien Bien → Sapa → Halong Bay
Highlights
Mountainous areas with hill tribe villages and minority people.
A homestay experience in Mai Chau.
Dien Bien Phu - the famous historical battleground.
Trekking in Sapa.
Overnight cruise on Halong Bay – the World Heritage Site.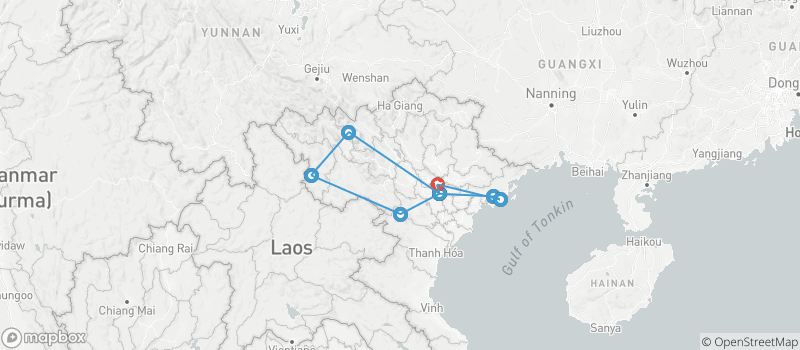 Age range

13 - 90 years old

Accommodation

3

/ 4

/ 5

Transportation
Discover the delights of the beautiful Northern Vietnam on a 10 days adventure to take in the scenic sights and historic monuments for which the country is best known. From Vietnam's charming capital to the brilliantly colored clothes of the northern hill tribes and to the sparkling emerald waters of Halong Bay, you will experience the traditions of mountain towns and the elegance of the remarkable countryside, the vivacity of the gregarious people, and the layered flavors of the traditional cuisine…
We offer even better rate for group of more than 10 people.
Let our travel consultant custommized your dream Vietnam Package
Go to customize.
Service Category

2

Adult(s)

0

Child(s)

0

Infant(s)
Discount
Total
Select

$ 850 x 6

-

-

$ 255

$ 4,845

Book It

$ 965 x 6

-

-

$ 290

$ 5,501

Book It

$ 1,280 x 6

-

-

$ 384

$ 7,296

Book It
Itinerary
Download PDF Brochure
Show all
Day 1: Hanoi Arrival.

Welcome to Hanoi, the Vietnam's bustling colonial capital. Upon arrival, your guide and driver will meet you outside the baggage claim of Noi Bai Airport and take you to your hotel. Check in and have a break then. In the afternoon, take a walking orientation around the city center, visiting some of Hanoi's main attractions including the Opera House, St. Joseph's Cathedral, Hoan Kiem Lake and Ngoc Son Temple. Later, enjoy a traditional Water Puppet Performance – a unique Vietnamese Art form hailing from Southeast Asia's wet-rice culture.
Meals: N/A.
Accommodation: Hotel in Hanoi.

Day 2: Explore Hanoi.

This morning, join us on a half day tour discovering the local's life. Leave Hanoi center by a car for a village nearby. Upon arrival, you will be greeted by the local host who then escorts you to visit a local market, the most famous one in the region where many traditional items are for sales. If on market days, people from all the surrounding villages would come to trade. People bring dogs, cats, pigs, chickens, ducks, and bamboo baskets to sell. Everyone is excited to meet each other on that day. You will be surprised about bustling and colorful market which is working under the canopy of old tree. You will see the old woman chew betel and areca nut and blacksmiths work hard with his bright brazier.
Right next to the market place is nice vegetable farms. Take a tour around vegetable fields growing a variety of produce including: cauliflower, cabbage, tomatoes, green peas, Chinese peas and corn, as well as fruit gardens with oranges, pomelos, papaya and more etc., and you may have chance to join with a farmer working in his field. You will have opportunity to help in the work of the small land-holding. Depend on the season this will involve ranking, sowing, water greens, picking greens and other garden activities. You will have opportunity to ask experienced for local farmers about cultivation techniques and lifestyle. Following the market, return to the local family where you will take part in a demonstration learning how to cook delicious and traditional dishes, enjoy local fresh vegetable, fruit, make traditional cake and talk about Vietnamese family custom together. The host offers free tea and local wine. After lunch, drive back to Hanoi center. In the afternoon, transfer to the Temple of Literature and the Single Pillar Pagoda to gain understanding of the two driving forces in Vietnam culture. Then, walk around the Ba Dinh Square where stands the Mausoleum of President Ho Chi Minh who led Vietnam to independence from French colonial rule. This site has become an important city landmark and a perfect place to learn more about Vietnam's rich history.
Conclude the day with a rickshaw ride through the lively Old Quarter, a series of 36 ancient streets where peddlers still trade the way they have done for centuries.
Meals: Breakfast, Lunch.
Accommodation: Hotel in Hanoi.

Day 3: Hanoi – Mai Chau.

This trip to the northwest highlands of Mai Chau offers a balance of cultural interest and physical activity, set amongst some of northern Vietnam's most stunning scenery. Your driver and guide will meet you at your hotel and take you along the national road No. 6 to Mai Chau: a small town nestled in the midst of a lush valley and surrounded by emerald-green rice fields. Enjoy picturesque views of the scenic landscape, sown with pagodas and rural villages. Stop along the way to visit the Muong tribe and then at Thung Khe Pass for a spectacular view of Mai Chau Valley. Have lunch in Mai Chau then spend the afternoon trekking off the typical tourist track. Trek through terraced rice paddies and small villages, discovering the natural beauty of the valley and encountering the culture of the White Thai people, living in the region. Stop at a Thai village for the night, having dinner with a local family and enjoying a homestay in their long house. Distance: 170 km or 100 miles.
Meals: Breakfast, Lunch, Dinner.
Accommodation: At long house in Mai Chau.

Day 4: Mai Chau – Dien Bien Phu.

Start the day with a simple breakfast with your host family. Farewell to your host of homestay drive to Son La. Let's stop en route to visit villages of various tribes including the H'mong, Thai, Muong and Dzao and orchard, tea farm in Moc Chau plateau – Vietnam's premier tea-growing region, before reach Son La (200km from Mai Chau) for a late lunch. In the afternoon, continue along winding mountain roads through North Vietnam's stunning countryside. The most picturesque scenery here is Pha Din Pass, well-known as a historical site during the 1st Indochina War ended in 1954, and a charming and dangerous pass at elevation 1,300m with breathtaking view. According to local legend, "Pha Din" means the connection between Heaven and Earth. On arrival, check in your hotel and spend rest of day at leisure. Distance: 320 km or 200 miles.
Meals: Breakfast, Lunch, Dinner.
Accommodation: Hotel in Dien Bien Phu.

Day 5: Dien Bien Phu Discovery.

Nestled in a heart shaped basin near the border with Laos, lies Dien Bien Phu, the famous historical battleground, where the Vietnamese successfully defeated the French, marking the end of French colonial occupation. Start the day early with a visit to the local market where you will meet charming Thai tribes in their traditional costume purchasing their farm products. Next, you will visit Dien Bien Phu Museum and A1 hill then continue to Dien Bien Phu Cemetery to observe a minute's silence in memory of the heroes who devoted their lives for the victory of the historical Dien Bien Phu Campaign. Visit General De Castries's Bunker, Old Muong Thanh Bridge and Nam Rom river. Then you drive to Muong Phang Village to trek about 1 hour in the forest to visit the historical relic site of the Dien Bien Phu Campaign Headquarters. Return to the hotel for relaxing.
Meals: Breakfast, Lunch, Dinner.
Accommodation: Hotel in Dien Bien Phu.

Day 6: Dien Bien Phu – Sapa.

This morning, leave Dien Bien Phu for Sapa. The road is a bit bumpy at times, but the rough route is quickly compensated by the magnificent scenery: yawning valleys, winding rivers, and canonical mountains – a photographer's dream. The drive to Sapa takes you up Tram Ton – the highest pass in Vietnam – and views of the Fansipan Peak, known as "the roof of Indochina". Visit the nearby Silver Waterfall. Upon arrival in the little town of Sapa, check in to your hotel. Nestled in a sweeping valley near the Chinese border, Sapa is Northwest Vietnam's premier travel destination. Built in 1922 as a French colonial hill station, this quaint town is now a trekker's paradise, offering hiking routes through terraced rice fields and enchanting hill tribe villages. Enjoy a free afternoon to explore the colorful town on your own. Have dinner and stay overnight in Sapa.
Meals: Breakfast, Lunch.
Accommodation: Hotel in Sapa.

Day 7: Sapa Trekking Tour.

Enjoy your tasty breakfast in the hotel while breathing fresh air of the mountainous region. Today, you will start a bit later to pick up the best time when the sun arises for the best vision & photos. Your guide and driver will transfer you to Sapa vicinity where the ethnic minorities live. En route, stop for magnificent landscapes, silver waterfalls. The first your visit is Can Ho B which is a home for Red Dao people. When walking in this hamlet, you will be so much welcomed by the locals whom you meet on the way. Visit their home to learn how the traditional costumes are made from hemp and dyed by indigo plant. Then, proceed further to Ta Giang Phinh, a Hmong village, nestled in the valleys below Sapa for a four to five-hour trek. As you walk through the authentic village, you will have a great chance to meet and interact with the native people who love to share with you about their life and so. Back to Sapa later and the rest of the day is at your leisure. Trekking: 5 hours downhills.
Meals: Breakfast, Picnic Lunch.
Accommodation: Hotel in Sapa.

Day 8: Sapa – Hanoi.

Spend the whole morning at your leisure or to explore the town yourselves. You may like to experience cable car ride to Fansipan peak (optional - ticket excluded in the tour package): The world's most modern three-rope cable car system, Fansipan Legend, was opened to public use on February 2016.
At the inaugural ceremony, representatives from Guinness World Records presented a certificate recognizing the system as the world's longest three-rope cable car (6,292.5 meters). The facility was also named the three-rope cable car system with the world's biggest height gap between its departure and arrival stations (1,410m). The cable car system stretches from Muong Hoa valley in Sapa Town, Lao Cai Province to the peak of 3,143-meter Fansipan, known as Indochina's rooftop. Passengers used to spend two days climbing to Fansipan summit, but now it takes only 15 minutes thanks to this system. The dream of reaching Indochina's rooftop, which used to be hard to do, becomes easier for everyone. As soon as you reach Fansipan station in an altitude of 2,800m above sea level, 600 stairs await for you to climb up to the summit. Standing on the top of Fansipan, it seems that you are enjoying a life on heaven. Surroundings are range of mountains and cloud only. And then you return the station for a ride back to Sapa. WORKING HOURS Start: 7:30 A.M – End: 17:30 PRICE Adult and child (taller than 1.3m): 30 USD/ person Child: 20 USD/ person. At noon, you leave Sapa for the long and beautiful drive back to Hanoi. Enjoy many stops en route to savor the beautiful countryside as the landscape changes from arching mountains to the flat plains of the Red River Delta. Arrive in Hanoi in the evening. Distance: 320 km or 200 miles.
Meals: Breakfast.
Accommodation: Hotel in Hanoi.

Day 9: Hanoi – Halong Bay – Overnight on cruise.

(The itinerary is a sample, depends on weather and it will be different between cruises. Our travel consultants will provide the exact schedule and program if you book other cruise such as Hera Cruise, Halong President Cruise, Emperor Cruise, Halong Violet, Halong Jasmine, Paradise Luxury Cruises, Orchid Cruise, Indochina Sails, Au Co Cruise, Starlight Cruise etc.)
Halong Bay is one of the most loved spots in Vietnam for a reason - it's gorgeous. On this Halong Bay tour, we take you away from the hectic pace of life in Hanoi and introduce you to the tranquil, beautiful Halong Bay... Following breakfast, journey east through the rich farmland of the Red River Delta to Halong Bay, truly one of Vietnam's most scenic impressive sights. On arrival you are welcomed onboard a traditional junk. Settle into a private comfortable cabin and unpack for a two day cruise around Halong Bay. Along the way, enjoy a huge lunch served on board and admire the picturesque scenery of islands. These limestone karst formations are littered with beaches, grottoes and beautiful caves. You will anchor for a leisurely swim in a secluded cove and an enjoyable visit to Sung Sot cave, one of the many hidden grottoes beneath towering cliffs. The remainder of day is for your own pleasure; observing the bay, lazing around the deck or simply soaking up the sunshine.
Meals: Breakfast, Lunch, Dinner.
Accommodation: on cruise on Halong Bay.

Day 10: Halong Bay – Hanoi – Departure.

Awake early and participate in Tai Chi on the top deck or simply relax and enjoy the sunrise over the bay's towering islands. Enjoy a morning cup of coffee or tea, before setting out to explore nearby islands by rowboat. Return to the junk for breakfast then take advantage of the sundeck and admire the amazing rock formations of Bai Tu Long Bay as you navigate back to Halong City. Have brunch on board the boat before returning to Halong pier. Your driver will take you back to Hanoi to catch your departure flight home.
Meals: Brunch.
Accommodation: N/A.
Detailed services
Show all
Accommodation

Rated Excellent by past passengers

Note:All the hotels/ cruise are subject to availability and can be changed. In case any of the listed hotels are fully booked, alternatives of equivalence will be taken.

Guide

Rated Excellent by past passengers

English speaking local guide.

Meals

Rated Excellent by past passengers

As mentioned in the itinerary: Daily breakfast at hotel, 6 lunches , 4 dinners.

Transport

Rated Excellent by past passengers

Private Car/Van with Air-Conditioning.
Flights

There is no domestic flight included in this package



As mentioned in the itinerary: Daily breakfast at hotel, 3 lunches , 1 dinner.

Note:Please note that airfares are subject to availability and to change without notice
Open
Price Includes
• Accommodations
• Breakfast & meals as mentioned in the itinerary
• Transfer by private car with A/C
• 2 days/ 1 night cruise package on Halong Bay
• English speaking guide
• Bottled drinking water & tissues
• Entrance fees, boat trip, performance & excursions..
Price Excludes
• Travel insurance
• Flights into and out Vietnam
• Vietnam Visa fee
• Tipping and other personal expenses.