Aqua Mekong
---
Embark on a cultural odyssey through Cambodia and Vietnam aboard the finest of river cruise ships in Asia

A magnificent presence on the Mekong River, Aqua Mekong Cruise showcases modern architecture and interiors by renowned architect Noor Design. The Mekong river cruise ship's 20 spacious, air-conditioned suites feature full-length windows that offer spectacular panoramas of the ever-changing Mekong scenery. Aqua Mekong also received the coveted Gold Award in the Architecture/New Build category in the 2015 Asia Hotel Design Awards. With its commitment to safety and comfort, Aqua Mekong remains the leader in Cambodia and Vietnam luxury cruises.

As the Aqua Mekong charts a luxurious passage across Cambodia and Vietnam, on-board guests embark on an inspiring journey of local flavors with a dining experience crafted by Michelin-starred consulting chef David Thompson. The ship's bar menu, created by renowned spirit experts and cocktail designers Proof & Co, echoes a similar locally-minded philosophy.

Aqua Mekong Cruise guarantees utmost safety, comfort, and exclusivity for off-shore excursions, as Aqua Expeditions owns and operates the only private fleet of launch boats on the Mekong River. The four ergonomically-designed launch boats bring guests on highly personalized day trips to explore the Mekong Delta. Cruise your Mekong river boat to landmarks, temples, and villages where tradition, spirituality, and craftsmanship reside.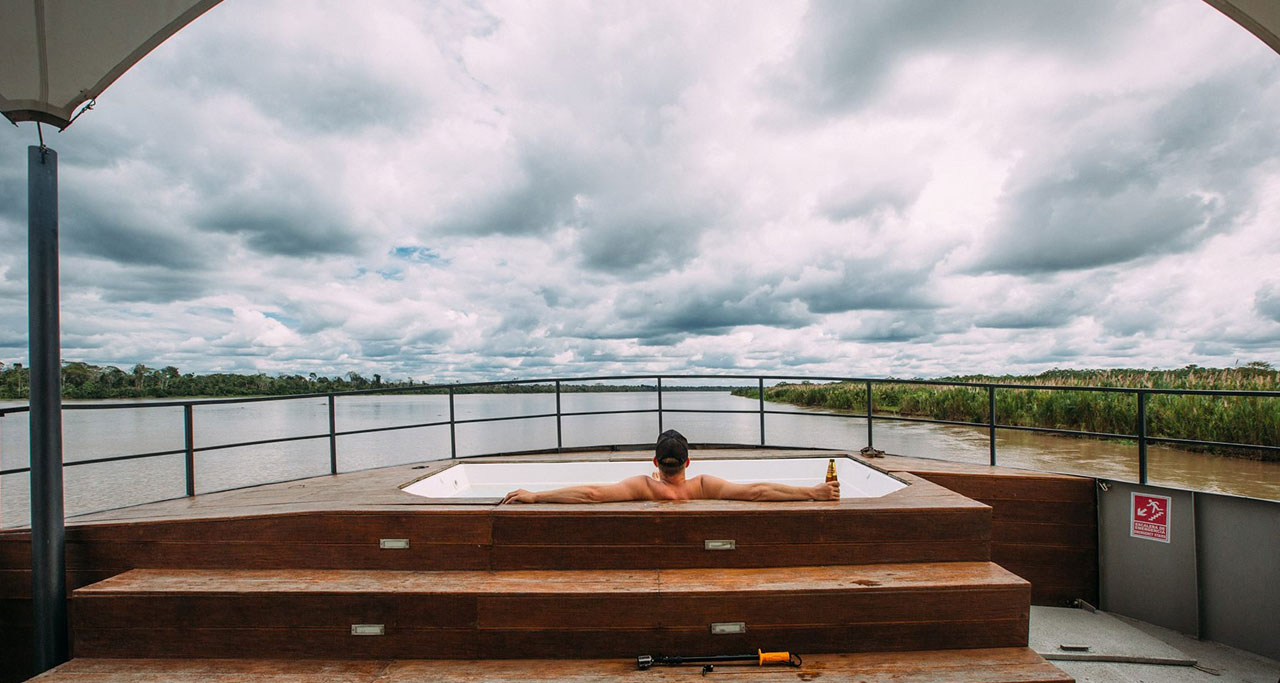 About This Cruise
A brief and rewarding taste of Mekong's agrarian heartlands

Aboard the luxurious Aqua Mekong, this 3-night river cruise on the Mekong river offers plenty to see and explore for travelers with limited time. Our private fleet of ergonomic, sheltered launch boats put the pleasure and efficiency in exploring Mekong's myriad waterways, making the most of your time in this beautiful region.

This 3-night itinerary departs from Phnom Penh and ends in Siem Reap in Cambodia.

Note: All itineraries are subject to change, due to weather and other conditions.
Detailed Itinerary
Show all
Day 1: Phnom Penh.

Aqua Mekong crew warmly welcomes you aboard with special refreshers, such as the salted watermelon crush with Thai basil. Celebrate your journey towards the heart of the Mekong river with the Khmer Apsara dance performance, a famous centuries-old tradition that is memorialized on the temple walls of Angkor Wat.

Day 2: Tonle Sap River – Koh Chen – Kampong Chhnang.

Awake to the beauty of rural Cambodia and sail by skiff to the silversmith village of Koh Chen for a first-hand encounter with artisans producing magnificent Royal Khmer silverware. Keep an eye out for their famous silver bowls, regularly chosen by Cambodia's king as gifts for visiting dignitaries. In the afternoon, continue experiencing Khmer riverside life in Kampong Chhnang. In this serene village, meet traditional potters and palm-sugar producers and watch them practices age-old craftsmanship and techniques dating back to the 6th century that are still highly relevant and valuable today.

Day 3: Mouth of the Tonle Sap Lake – Chhnok Tru – Moat Khla.

Discover vast wetlands, bird life and remote stilt communities around the Tonle Sap Lake, a UNESCO Biosphere Reserve designated in 1997. In Chhnok Tru, visit an intriguing ice factory and learn from locals what it is like to live in a town where its school, church, pagoda, police station and even the karaoke bar "float" on water. After lunch, sail to the floating village of Moat Khla and attend a Buddhist blessing ceremony in this isolated community accessible only by water.

Day 4: Tonle Sap Lake – Prek Toal – Siem Reap.

Continue the exploration of Southeast Asia's largest freshwater lake, setting off on Aqua Mekong's ergonomic skiffs to the 22,000-hectare Prek Toal Core Bird Reserve, one of the last refuges in Southeast Asia for large waterbirds like the spot-billed pelicans, milky stork, black-headed ibis and the elusive masked finfoot.

Disembark in the enigmatic city of Siem Reap, home of the Angkor Wat.
Deck Plan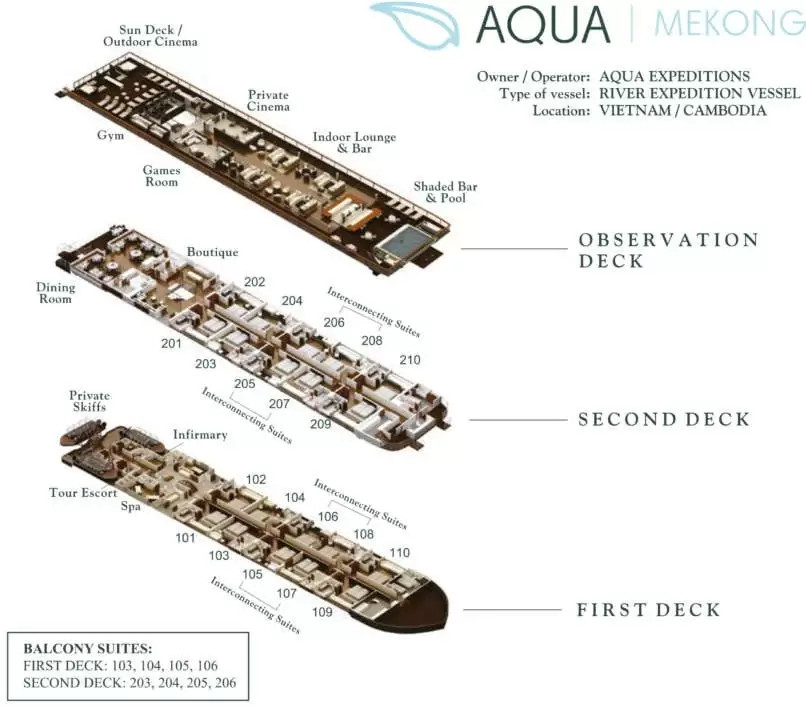 Cabins
Full Side River View
30m2
Non-Smoking
Shower
Private Balcony
1 King Size Bed
Full Side River View
30m2
Non-Smoking
Shower
Private Balcony
1 King Size Bed
Price Includes
• All meals while on board.
• Premium selected wines and beer, non-alcoholic drinks.
• Excursions with knowledgeable local guides.
• Group transfers between vessel and meeting point.
• Laundry.
• Internet connection (intermittent depends on locations).
Price Excludes
• Flights into and out Cambodia.
• All visa costs.
• Soft drinks, beer or wine served in the lounges or consumed from the in-room mini-bar.
• Spa or Salon services.
• Items of a personal nature like souvenirs, photos, etc.
• Personal travel insurance (recommended).
START PLANNING NOW